LCCMH CHILDREN'S DEPT. TRUNK OR TREAT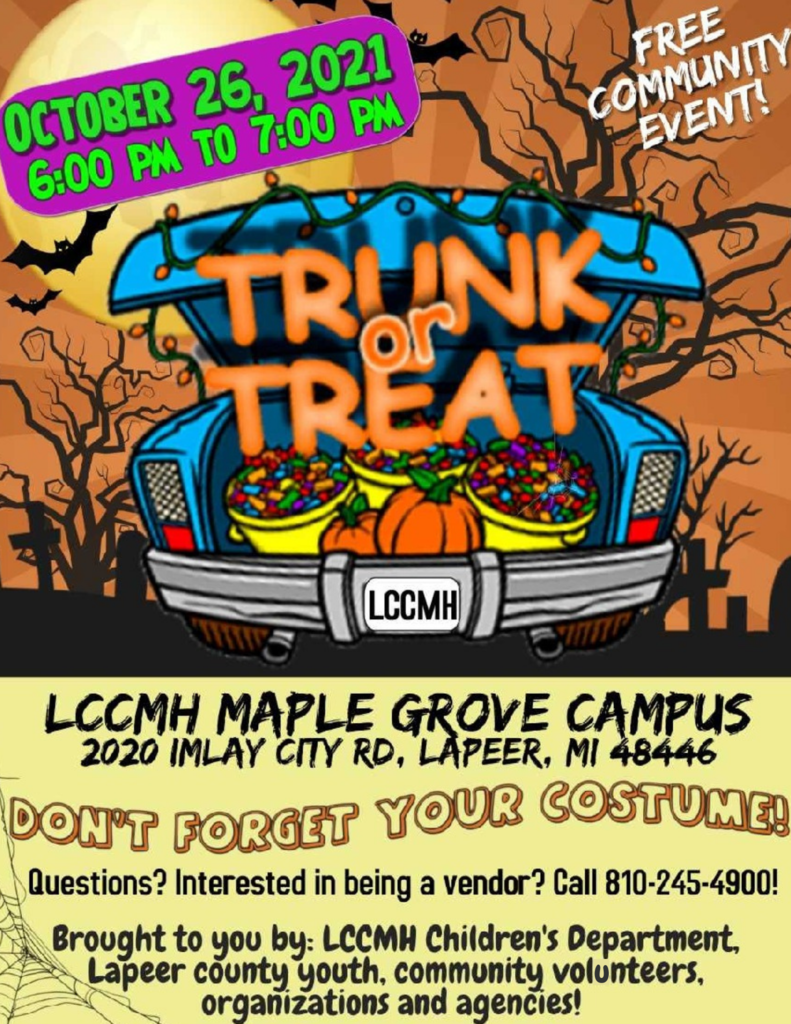 COMMUNITY TRANSPORTATION NEEDS INPUT SESSION





---
Please come and tell Four County Community Foundation and local planning partners what you think! We are seeking input from people living in Lapeer County on the transportation needs of older adults and others who do not drive.

INFO SESSIONS: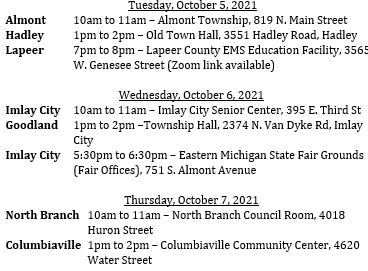 For questions about accessibility or to request an accommodation, or to obtain the Zoom link for the 7pm meeting on October 5th, please call (937) 299-5007 or email ccampoll@rlsandassoc.com and reference the Lapeer County input meetings.

Participate in the transportation survey by clicking here.

Into the Light Suicide Awareness Walk
Calendar

‹

Previous

October

2021

Next

›

S
M
T
W
T
F
S
1
2
3
4

Oct 4

1:30 PM to 3:00 PM

IDDT

Location:

Lapeer County Community Mental Health, 1570 Suncrest Dr, Lapeer, MI 48446, USA

Calendar:

Events Calendar

5

Oct 5

12:00 PM to 2:00 PM

IDDT

Location:

Lapeer County Community Mental Health, 1570 Suncrest Dr, Lapeer, MI 48446, USA

Calendar:

Events Calendar

6:00 PM to 7:30 PM

Survivors of Suicide

Location:

St. Matthew's Anglican Church, 220 W Nepessing St, Lapeer, MI 48446, USA

Calendar:

Events Calendar

6

Oct 6

1:00 PM to 4:00 PM

Recipient Rights New Hire Training

Location:

Lapeer County Community Mental Health, 1570 Suncrest Dr, Lapeer, MI 48446, USA

Calendar:

Events Calendar

7

Oct 7

1:00 PM to 2:00 PM

Double Trouble & Recovery

Location:

Lapeer County Community Mental Health, 1570 Suncrest Dr, Lapeer, MI 48446, USA

Calendar:

Events Calendar

1:00 PM to 2:30 PM

Acting Class

Location:

Lapeer County Community Mental Health, 1570 Suncrest Dr, Lapeer, MI 48446, USA

Calendar:

Events Calendar

8
9
10
11

Oct 11

12:00 PM to 1:00 PM

Recipient Rights Committee

Location:

Lapeer County Community Mental Health, 1570 Suncrest Dr, Lapeer, MI 48446, USA

Calendar:

Events Calendar

1:30 PM to 3:00 PM

IDDT

Location:

Lapeer County Community Mental Health, 1570 Suncrest Dr, Lapeer, MI 48446, USA

Calendar:

Events Calendar

12

Oct 12

12:00 PM to 2:00 PM

IDDT

Location:

Lapeer County Community Mental Health, 1570 Suncrest Dr, Lapeer, MI 48446, USA

Calendar:

Events Calendar

13
14

Oct 14

1:00 PM to 2:00 PM

Double Trouble & Recovery

Location:

Lapeer County Community Mental Health, 1570 Suncrest Dr, Lapeer, MI 48446, USA

Calendar:

Events Calendar

1:00 PM to 2:30 PM

Acting Class

Location:

Lapeer County Community Mental Health, 1570 Suncrest Dr, Lapeer, MI 48446, USA

Calendar:

Events Calendar

15
16
17
18

Oct 18

1:30 PM to 3:00 PM

IDDT

Location:

Lapeer County Community Mental Health, 1570 Suncrest Dr, Lapeer, MI 48446, USA

Calendar:

Events Calendar

19

Oct 19

12:00 PM to 2:00 PM

IDDT

Location:

Lapeer County Community Mental Health, 1570 Suncrest Dr, Lapeer, MI 48446, USA

Calendar:

Events Calendar

6:00 PM to 7:30 PM

Survivors of Suicide

Location:

St. Matthew's Anglican Church, 220 W Nepessing St, Lapeer, MI 48446, USA

Calendar:

Events Calendar

20
21

Oct 21

9:00 AM to 12:00 PM

Recipient Rights New Hire Training

Location:

Lapeer County Community Mental Health, 1570 Suncrest Dr, Lapeer, MI 48446, USA

Calendar:

Events Calendar

10:00 AM to 11:00 AM

Citizens' Advisory Council

Location:

Lapeer County Community Mental Health, 1570 Suncrest Dr, Lapeer, MI 48446, USA

Calendar:

Events Calendar

1:00 PM to 2:00 PM

Double Trouble & Recovery

Location:

Lapeer County Community Mental Health, 1570 Suncrest Dr, Lapeer, MI 48446, USA

Calendar:

Events Calendar

1:00 PM to 2:30 PM

Acting Class

Location:

Lapeer County Community Mental Health, 1570 Suncrest Dr, Lapeer, MI 48446, USA

Calendar:

Events Calendar

5:30 PM to 7:30 PM

Committee of the Whole

Location:

Lapeer County Community Mental Health, 1570 Suncrest Dr, Lapeer, MI 48446, USA

Calendar:

Events Calendar

22
23
24
25

Oct 25

12:30 PM to 1:30 PM

Aktion Club

Location:

2020 Imlay City Rd, Lapeer, MI 48446, USA

Calendar:

Events Calendar

1:30 PM to 3:00 PM

IDDT

Location:

Lapeer County Community Mental Health, 1570 Suncrest Dr, Lapeer, MI 48446, USA

Calendar:

Events Calendar

26

Oct 26

12:00 PM to 2:00 PM

IDDT

Location:

Lapeer County Community Mental Health, 1570 Suncrest Dr, Lapeer, MI 48446, USA

Calendar:

Events Calendar

27
28

Oct 28

1:00 PM to 2:00 PM

Double Trouble & Recovery

Location:

Lapeer County Community Mental Health, 1570 Suncrest Dr, Lapeer, MI 48446, USA

Calendar:

Events Calendar

1:00 PM to 2:30 PM

Acting Class

Location:

Lapeer County Community Mental Health, 1570 Suncrest Dr, Lapeer, MI 48446, USA

Calendar:

Events Calendar

5:30 PM to 7:30 PM

Full Service Board

Location:

Lapeer County Community Mental Health, 1570 Suncrest Dr, Lapeer, MI 48446, USA

Calendar:

Events Calendar

29
30
31